Paella is one of the most popular and famous of global dishes.Defining exactly what paella contains is almost impossible. There are as many variations of paella as there are cooks, with many claiming that their recipe is the best tasting or most authentic. The origins of the dish, however, are quite humble. Understanding a little of its history will help explain why so many varieties exist.
Valencia in Eastern Spain is the undisputed home of paella. It is one of the largest natural ports in the Mediterranean and has been of the most important rice-producing areas in Spain since rice was introduced by the Moors over 1200 years ago. In fact the Spanish word for rice is 'arroz', which is derived from Arabic, not Latin like most of Castilian Spanish.
Humble Beginnings
Paella was originally farmers' and farm labourers' food, cooked by the workers over a wood fire for the lunchtime meal.  It was made with rice, plus whatever was to hand around the rice fields and countryside: tomatoes, onions and snails, with a few beans added for flavour and texture. Rabbit or duck might also have been added for special occasions or chicken plus a touch of saffron for an extra special colour and flavour. Paella was also traditionally eaten straight from the pan in which it was cooked with each person using his own wooden spoon.
Little by little, as 'Valencian rice' became more widely available, paella recipes were adapted with new variations appearing. With Valencia being on the coast, it is no surprise that various types of seafood crept into the recipes over the generations. Now paella is the generic name of 200 or so distinctive rice dishes or 'arroces' from the Valencia region let alone other parts of Spain and the rest of the world. To this day a "true" Paella Valenciana has no seafood but a mixture of chicken, rabbit and snails with green and white beans.
'Paella' – where did the name come from ?
It's a little confusing but 'paella' or to be more exact 'la paella' is the name for the cooking pan itself and not the dish. The word comes from old Valencian (in Valencia they have their own language somewhat similar to Catalan) and probably has its roots in the Latin 'patella' meaning pan.
There are however, some other wonderful (if less likely) theories about the origins of the name. The most romantic of them suggests that the dish was first prepared by a lover for his fiancée and that the word is a corruption of 'por ella' (meaning 'for her' in Spanish). Like all myths there is a small grain of truth in this and although many women still traditionally do the cooking in Spain, making paella is usually left to the men  – very much like BBQ's in the UK!!!
It has also been suggested that the word 'paella', is derived from the Arabic word "Baqiyah", which means 'leftovers'  – once again emphasizing both the dish's humble and arabic beginnings.
Paella – the most sociable of all culinary occasions
In Spain paella is still unique. Not only do families congregate together to eat paella in restaurants, but it is often cooked at weekends at holiday homes, in 'bodegas' or 'txokos'  (large dining areas where families gather) or at the beach or mountain picnic sites. There are many paella competitions all over Spain and very often a giant paella is the centrepiece for many fiestas.
It's easy to see why – paella can create a party, a ceremony and a debate (often over the making of the paella itself!!)  – making it one of the most sociable and enjoyable of all culinary occasions.
And finally, if you don't already know – and you want to impress your friends, "paella" is pronounced "pa-e-ya" with the "e" as in "bet".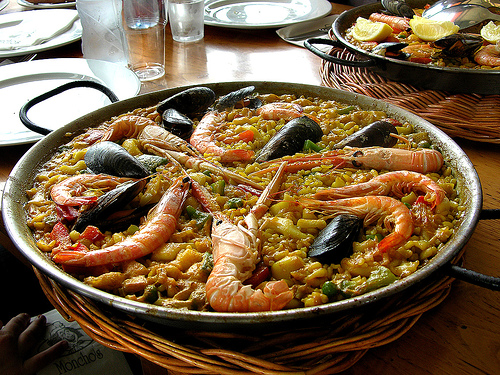 Ingredients
Serves : 8
1 tablespoon olive oil
6 chicken thighs, boned if desired
1 head garlic, cloves separated and peeled
1 small onion finely chopped
1 can of chopped tomatos
Small jar of sliced oven roasted red peppers
1 (400g) tin butter beans
150g frozen garden peas
150g frozen green beans
I litre of chicken stock
Mix of uncooked whole prawns, clams, mussels in their shells and squid pieces to your taste ( this can be purchased in a mixed frozen bag and can be added without thawing)
salt to taste
1 teaspoon Spanish paprika, or to taste
1 pinch saffron threads
dried thyme to taste (optional)
1 large sprig of rosemary
740g uncooked white paella (short grain) rice
---
Directions
Prep: 20min  ›  Cook: 45 mins.
Roll the chicken in a good quality paprika to give authentic flavour.
Heat a paella pan over medium-high heat and coat with olive oil. Add the chicken, brown off and then add the onion and garlic; cook and stir until nicely browned. Move the browned meat to the sides of the pan,
Add the rice and stir into the oil and juices for a minute.
Fill the paella pan almost to the top with a good chicken stock. Bring to the boil.
Add the seafood, tomatoes, butter beans, peas and green beans. Season with salt and mix well.
Add just enough saffron to make a nice yellow colour. Season with thyme and rosemary if desired. The goal is to make a rich tasting stock that will soak into the rice to make it delicious. Cover, reduce heat to low and simmer until all of the liquid has been absorbed. Just before serving add a splash of a sweet Spanish sherry from Jerez for real authenticity. Ready in about 20 minutes.
Lift some of the mussel and clam shells to the surface. Decorate with cooked prawns, roasted red peppers and lemon wedges for a stunning effect.